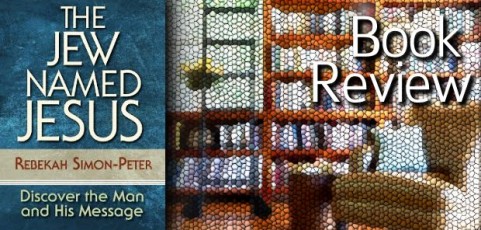 It wasn't a shock to see "A Jew Named Jesus" as a book title. After all, I've been a pastor for several years. I'm also seminary-trained and I understand the history of the Bible.  But for this pastor, who has never been immersed in Jewish culture, this book was a phenomenally eye-opening experience. Rebekah Simon-Peter offers a distinct flavor that has been missing from Christian culture and provides an entry point for the open-minded Christian to peer over the shoulder of a Jewish woman who has been found by Jesus.
Like Simon-Peter, I have found the Jesus of the Christian Church to be almost devoid of Jewishness. As she puts it, Jesus has been "stripped of his Jewishness, divorced from his context, and turned into a Christian."  She goes on to note that he was "a very nice Christian, but a non-Jew nonetheless."
Her task is to rejoin these two cultures insofar as this may be done, by renewing the context, explaining the culture, and sharing her experiences of both Judaism and Christianity and the Jewish Christ.
Part Autobiography
The author provides a detailed story of her journey from Reformed Judaism to Orthodoxy to Christianity to answering a call to preach the Gospel. By following Simon-Peter's journey of discovery and revelation, we are able to overhear a conversation between her found Christianity and the Jewishness she carries within her. And the conversation isn't always easy.
How does one come to worship the Christ who, for her people, has always represented the reason for their persecution at the hands of Christians?
How does one depart the teachings and the teachers of one's childhood?
How does one experience the Christian Church without the often disjointed, preconceived notions of cultural Christians?
The answer this book provided is this: With careful and precise deliberation, and with the loving support of those within both Jewish and Christian communities who understand that the mysteries of our religious beliefs outnumber the facts of our theological understanding.
Part Theology
Along the way she discovers the absence of Jewishness from Christian images. The perspectives on the central figure of our faith, Jesus of Nazareth, were two dimensional and lacked the Jewish grounding she knew. Simon-Peter offers us a clear reinterpretation of Jesus through the lens of Judaism and Jewish culture.
As I mentioned before, I have always tried to present Jesus as he existed within his culture of Jewish thinking and behavior. But I found some places where I may have missed the mark. Simon-Peter points out the debates between Jesus and the teachers of the Torah, the scribes, and others. I was taught that these encounters were intended to test and to trap Jesus, but I focused on the trap. Simon-Peter notes that
The Pharisees are the subject of many of these compare and contrast sermons. They have been so often preached as shortsighted, small-With minded, religious frauds who cared only about control that the term has become synonymous with "hypocrite." Just look it up in the Dictionary. To be sure, some of the Pharisees were hypocrites. Even rabbinic writings acknowledge that. Some of the them tried to entrap Jesus and some wanted him dead. Jesus rightly called them on it. But other Pharisees sincerely sought him out, warned him of danger, appreciated his teaching, extended hospitality even when being attacked by him, and argued for open-mindedness.
How did I miss this? No, how did I see this and acknowledge it, and yet fail to incorporate it into the Lenten/Easter dialogue?
The Missing Cultural Flavor
But this isn't just a corrective lens for theology and discourse. Simon-Peter points to the rich heritage of Judaism that flowed from the sons and daughters of Abraham to become the followers of Jesus. She notes that the followers of Jesus from the Gospels and the Book of Acts all come from his Jewish family, friends, and neighbors. Even Matthew, who works for the Gentiles, is a Jew — and hated by his people for collaborating. The Pentecost congregation is made up of believing Jews from many, many countries. The Gospel message delivered by Peter and John is framed in language that points back to the God of Abraham, Isaac, and Jacob.
More importantly, Simon-Peter orchestrates the syncopated melodies of Christian culture. She provides deep and personal insights into the harmonies of Judaism's ancient traditions. The result is a rich and varied symphony. I won't ever again be able to hear one of the components without realizing the absence of the other.
This Book is for You
If you are a pastor with a seminary education, this book is for you. If you are leading a congregation, and you are unaware of the connections between Judaism and Christianity, this book is for you. The average Christian on the street who thinks of Judaism and Christianity as two separate, unrelated religions — oh my word, this book is for YOU.
Disclosure: I was asked to review this book by Rebekah Simon-Peter and her publisher. They provided a digital edition through Netgalley. I am grateful for both the copy of the book and the opportunity to read and review it.
Book Author Bio: Rebekah Simon-Peter
Rebekah Simon-Peter grew up in the rolling wooded hills of Connecticut. Frequent brushes with the wonders of nature, including poison ivy, prompted her to major in Environmental Studies at the University of Vermont.
After graduation, she worked on acid rain studies while also deepening her religious commitments. Later, she was ordained a United Methodist minister and served churches in Colorado and Wyoming for over a decade.
Now the Director of BridgeWorks, she is a sought after speaker and presenter on matters that build bridges of understanding. She lives in Wyoming with her husband Jerry and dog Amigo.
Author:
Joey Reed
Joey is married to his best friend and they live in Kentucky. Joey serves Mayfield First United Methodist Church, the Purchase District, the Memphis Annual Conference, and the world is his parish.