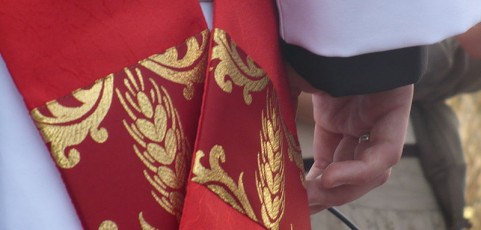 "You can't wear that yet," came the sharp voice from behind me. An elder was speaking to a young pastor who was vesting for a processional at Annual Conference. "Not until you are ordained."
Chagrined, the young pastor cast his eyes around, looking for a safe place to stash his stole. It looked new, perhaps only recently purchased at the Cokesbury display.
And so he marched in with the rest of us, one among many, but distinguished from the company he kept. While the men and women seated to either side of him were wearing long bands of ornate cloth draped over their necks, he wore only the scholar's gown worn by most clergy in attendance.
The stole is a sign and symbol of particular authority that is granted solely by ordination which comes at the hands of a bishop after a lengthy process of examination and period of probation.
And yet, our probationary elders are functioning identically to our full-connection elders.
Caste System
I have several problems with the way we handle the distinctions between elders and deacons and local pastors. I have even more problems with the distinctions between probationers and the rest of us.
The whole thing starts to stink of classism very quickly. Caste systems reserve privilege and honor for the highest ranks, usually at the cost of rights and dignity for the lowest ranks.
Is our clergy system intended to be a caste system? No, of course not. Are all of the elders in the conference disdainful and rude to the local pastors, deacons, and probationers? By no means.
Do we still cause hurt and harm by harping on the differences and reserving privilege? You bet. And by "we," I mean "I."
The Origins of the Stole
Let's keep this simple shall we? It's a towel. As Jesus "girded himself with a towel" to serve his students at the last supper they ate together, we now take on the towel as a symbol of our servanthood — only our towels can cost anywhere up to $2000.00 (though most are between $100 and $400) and look like something that was shot out of a rococo cannon through a baroque tailor's fitting room.
And we don't let anybody wear them until we say it is okay to wear them. It's not in the Bible. It's not even in the United Methodist Church's Book of Discipline (that I can find). It comes from a tradition dating back to the fourth century and currently upheld in the Ordinal for the United Methodist Church, compiled and edited by The General Board of Discipleship, The General Board of Higher Education and Ministry and The General Commission on Christian Unity and Interreligious Concerns in collaboration with The Council of Bishops. Whew.
And I get it. I really do. Vestments provide a sense of the sacred and a sign of authority, office, and responsibility. I am not decrying the benefits. But we are not in a position to forego the conversation on the detriments.
Classism
Whether we mean to or not, elders disenfranchise those who would serve alongside us. And isn't shared service the goal? Not often, I'm afraid.
Ordained ministry isn't designed to set men and women above others. It is instead designed to set us apart for a particular service.
The issue comes to bear when we are overly protective of status rather than function.
Current events demonstrate this issue quite well. The United Methodist Church is currently engaged in a broad and brisk debate over appropriate ages for clergy.
How much of this conversation is driven by "concerns for effectiveness" and how much is about "protecting the resources of the institution?" I'll leave it for you to research and decide.
But this protectionist mentality has left us looking more like a Union than an Order. We spend far too much time protecting our pension plan, protecting our insurance plan, and protecting our employment benefits. One of the ways we do that is to limit the number of beneficiary recipients. And that is done by promoting the distinctions between elders and the rest of the folks serving as pastor — in whatever category we assign.
So What Is Your Point?
To be clear, I'm not trying to put stoles on every person serving as a pastor. In fact, I rarely wear a stole anymore. And when I do, I make a point to describe it's function and purpose.
My goal is to blur the lines between elder, deacon, and local pastor to the point that we reduce or remove classism and caste thinking, but not to the point that we confuse our roles and purposes within the congregation.
I think that we can focus much more clearly on the similarities between local pastor, deacon, and elder. And we can do this without disrespecting anyone's work. So before you tell me that it can't be done, know that you will have to convince me.
This all began with a post on Facebook from the folks at www.CoreGroups.com.
Clergy and Laity – Is it of God? Clergy (Greek kleros) and laity (Greek laos) are Biblical concepts. But there is no suggestion in scripture that the kleros are a class or group of persons distinct from the laos. Do we undermine the authority of God's Word by promoting a clergy – laity distinction?
My answer was, "yes." And it's because of creeping pharisaism, or the slow onset of institutional, protectionist thinking. That means that we are responsible for the constant freshening of the message of what disciples are called to do, and what it means for us to perform in different roles without different ranks.
Table, Water, Bread, and Towel
I am a huge fan of Dr. Doug Meeks. I wasn't bright enough to get into a classy joint like Vanderbilt, but I have taken every opportunity to pick Dr. Meek's brain.
One of the finest gems of wisdom comes in his description of the household economy of God found in his book God the Economist: The Doctrine of God and Political Economy. Meeks points out the simple but profound reality that a house has a table for shared meals, water for cleansing and refreshing, bread for sustenance, and towels with which to clean and serve.
I use this image frequently, most notably on Maundy Thursday when the Church recalls the Last Supper and the aforementioned towel with which Jesus girded himself to serve. I also make prominent use of towels in the communion ritual.
When the servers have finished washing their hands in the lavabo (the big punchbowl-looking thing, full of water, next to the communion table), I dry their hands with a hand towel. Then, I fold that into thirds, long-ways, and drape it over the left shoulder.
It's not a stole. It's still a towel, and it recalls the role of servanthood.
In one Maundy Thursday service of Table, Water, Bread, and Towel, I gave the congregation a small washcloth as a reminder that they are to be servants.
And my towel should look like yours in that we serve in similar ways. Mine should be different from yours only to the extent that my service is necessarily different from any given individual's.
So for me, it's not a stole. For me, it must be a towel.
Related articles
Author:
Joey Reed
Joey is married to his best friend and they live in Kentucky. Joey serves Mayfield First United Methodist Church, the Purchase District, the Memphis Annual Conference, and the world is his parish.