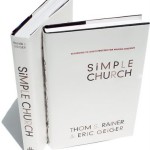 In the book Simple Church, the authors offered four key words to help provide some sense in the midst of what can be holy chaos. 
Clarity. Movement. Alignment. Focus. 
Here at Trinity, we have achieved some Clarity over the past year. For us, that meant dedicated leaders who embrace the notion that God is hard at work in the community around us and in the city of Paducah. We've clarified that nothing matters more than doing God's will. The bright clear light of the gospel is illuminating the truth that lost people matter to God, therefore they matter to us. 
We are clear on becoming a missional church. What does that mean? Missional churches rely on the members to leave every Sunday with a plan to serve. 
Check out this video: 
That's why our next step is to resolve the movement question. What does that mean? It means that folks make progress in their journey. It means that you don't join up and sit down. Movement means you make a commitment to grow and change and improve with every breath, with every step. Movement means that you want to be better today than you were yesterday. Movement means goals for personal growth. 
Simply put, movement means doing life in a small group with people who will hold you in loving accountability. 
That's when LIFE Groups comes into the picture. Movement can be accomplished in a variety of settings, from Sunday School classes to weekly Bible Studies. But our top gear will be LIFE Groups. Why? Because we've discovered that discipleship within Sunday Schools tends to be a passive sort of experience. That is not to say that we don't have good classes. Our teachers are exceptional, but rare is the opportunity to look a class mate in the eye and ask, "How is your discipleship? No, really–how is it?" 
I hope you will take some time to discover more about LIFE Groups at Trinity. They aren't for everyone. But there's a place in a group for you, if you are ready for the challenge!
Author:
Joey Reed
Joey is married to his best friend. Together, they have two children and live in Jackson, Tennessee. Joey serves Grace United Methodist Church, the Jackson District, the Memphis Annual Conference, and the world is his parish.