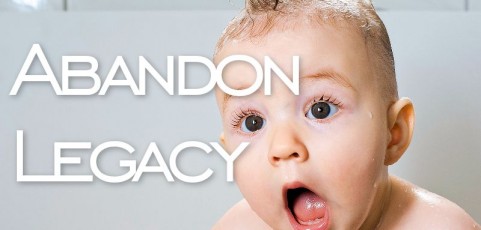 While unpopular in some circles, there are still a great many reasons why I still believe in the UMC. Sure, there are some antiquated ideas in every organization, especially one that goes back a few years like ours does.
Old habits die hard, even in the young leaders who are stepping into the gaps left by absentee Baby Boomers who don't want to become the very embodiment of the authority they rejected in the  60's and 70's. And the Greatest Generation still has a firm grip on the wheel in many respects, whether the generation after them wants to drive for a while or not.
This has led to a difficult joining of hands in our denomination. A very different mix of leaders have been brought together in capacities that aren't always "official"  to figure out how we are going to move forward as a denomination. Some are bishops. Others are leading voices in bright and shining ministries. Others are simply leading voices. With the advent of social media, even pastors serving a hundred members or less can suddenly find themselves at the table sharing opinions.
The strain of leading through this time is incredible, at least from where I sit in the middle. People are pulling back to more conservative positions. Progressives are making plans to leave the denomination as they encounter obstacles on the path to discipleship or even ordination.
So I thought I would share a few ideas about why I still believe in the UMC. Consider this a reminder to those who came before me and a push for the next generations to embrace our history — speckled, spotted, and stained though it may be.
A Rich Heritage of Progress
Methodists have been on the cutting edge of progress for centuries now. Only in the last few decades did we get too comfortable for our own good. Granted, the cycle of history created unrest and disturbance unlike anything we've seen in our history, but that's a different post.
Before we developed a bunker mentality and started holding out against all changes, God-wrought or otherwise, Wesleyans in general and Methodists in particular were quite adept at navigating the changes that rolled across the years.
We were against slavery (in most parts of the Church) before many others.
We were acknowledged as leaders in the drive towards universal suffrage and ordination of women.
We helped to eliminate unsafe working conditions and provided organization for labor back when the issues weren't bonuses and perks, but mortality rates and child endangerment.
We were instrumental in bringing medicines and advances in technology to far-flung regions of the world.
In short, Methodists were helping to bring about changes for the better in the world. And we still do these things.
The Power of Connection
Today, United Methodists are still leading the way in many areas. While we throw stones at one another over a handful of political footballs, United Methodists are teaching the Gospel message to children, youth and adults. United Methodist missioners, staffers, and volunteers are rescuing and resourcing disaster victims in the wake of the natural phenomena which frequently disrupt millions of lives on this globe. United Methodists are binding up the wounds of the sick and feeding the starving bellies of the hungry and destitute. Local churches are still giving of their prayers, their presence, their gifts, their service, and their witness. And while some are so very bent inward, more and more of our congregations are awakening to God's dream and pursuing ministry in their backyard for the first time in years.
The Destructiveness of Distraction
Unfortunately, our hyper-politicized world has turned church membership and religious beliefs into a panoply of polarized positions. We are forced to pick sides, prepare talking-points for endless repetition, and pummel one another for disagreeing.
It's not a pretty list of things about which we are angry and divided. We argue over sexuality. And … well, that's darned near the entirety of our deepest divide.
How one issue can be such a divisive point in an otherwise robust legacy of ministry and mission, I have trouble understanding.
We held together in the process of turning so many corners. And we are still turning most of them: Gender equality, racial harmony, and reducing economic disparity. But our unity is hanging by a thread over one thorny issue.
It's a distraction. Of course, it is more than a distraction for those whose lives are being impacted. But at the bottom of the well, this is a giant distraction for the ministry of the church. While it is important, our conversation regarding human sexuality is not the hinge upon which all things religious should turn.
We are overbalanced in this area, and, collectively, we would do well to get ourselves to a clearer understanding of our ministry task.
The Baby in the Bathwater
I am baffled when colleagues are willing to toss the entire legacy and the complete structure of the church over this issue. When Jeff Bethke wrote about "Why I Hate Religion," I wrote back that there was a baby in that bathwater.
This must have been the feelings of those who watched their colleagues walk away for different reasons in a different day. Our brothers and sisters in the Free Methodist Church departed over the ownership of church pews by different families as well as the signal issue of its day, slavery. The Salvation Army branched off when William Booth tired of pastoral administration and yearned for daily Christian Mission. The Church eventually caught up with both visions of progress, and outstripped her offspring in a variety of ways.
My point is this: Abandoning the legacy now may satisfy your personal views. Such a response may even result in the establishment of a more perfect union, separate from those who disagree and chafe your hide.
But we are better for the disagreement. We are spurred in our progress by your presence. And we are chided for our reticence by your eagerness to pursue Christ into places we've not yet thought to go.
The trouble with the Church is that we think that Christ is resting at the center, in the places of least change and surest ground. In fact, Jesus is on the edge, out in the crowds, pushing past the limits and creating new mission fields with every step.  He always has been.
Why would he abandon such a legacy now?
Related articles
Author:
Joey Reed
Joey is married to his best friend and they live in Kentucky. Joey serves Mayfield First United Methodist Church, the Purchase District, the Memphis Annual Conference, and the world is his parish.